Bliss, New Mexico host Oktoberfest activities
Laura Ruelas
El Paso Times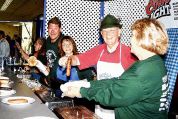 Photos courtesy of Mark Doth

Revelers enjoy food and fun at last year's Oktoberfest in Ruidoso.
---



Put on your lederhosen and get your stein. Bratwurst, amber-gold lager and polka music are a few things from Germany's culture that people can experience at the many Oktoberfest celebrations in the area this month.

Fort Bliss, White Sands Missile Range and Ruidoso will all host events this month in honor of Oktoberfest. The first Oktoberfest was in 1810, when the King of Bavaria, Max Joseph, hosted an elaborate wedding celebration for Crown Prince Ludwig and Princess Therese von Sachsen-Hildburghausen. The celebration was so grand that it became an annual tradition. Horse races were once part of the event, but over time beer and music became the focus.

The annual celebration at Fort Bliss, sponsored by the German Air Force, will be tonight and Sunday. 1st Lt. Olaf Balensiefer is positive the event will be a success.

"We sold out Friday and Saturday," he said. "Nine hundred tickets were sold for each day. Sunday is still open, and I think there will still be tickets available for that day."

People will be able to get a taste of Bavaria starting at 6 p.m. today at Building 746 on Carter Road at Fort Bliss.

Along with the beer garden, there will be a live band from Munich, Germany, and great German food like steamed sausage and sauerkraut with onions or roasted chicken.

"We've been doing this for about 30 years now, and we bring in a oompah band from Bavaria. Of course authentic Bavarian beer," Balensiefer said.

White Sands Missile Range will have its 23rd Annual Oktoberfest from 6 p.m. to midnight Friday. The event will be at Volunteer Park at White Sands. Entertainment will be provided by Helmut Schranner and his band from Holledau, Germany, along with the German Air Force Air Defense School Schuhplattlers.

Ruidoso will host an Oktoberfest next Friday and Saturday.

"Oktoberfest has become a tradition in our community, and it's a great way to celebrate the changing seasons," event organizer Mark Doth said in a news release.

Katherine Wyndale, 34, is making plans to celebrate Oktoberfest in Ruidoso.

"We're probably going to head up there early Friday morning and enjoy the drive," she said. "Fall's the best time to head up to the mountains and see the leaves changing colors. The Oktoberfest is a bonus, especially the great food."

Headlining the event will be a German trio, Gehrenbergspatzen, from Markdorf, Germany. The band is well known in Germany, Austria, Switzerland and the United States. Albuquerque bands Swingshift and Die Polka Schlingel will also perform throughout the weekend. Polka, folk dancers and more than 40 arts and crafts booths will be part of the event.

For $6 people can enjoy a day of fun, or for $10 they can enter the event both Friday and Saturday. Children younger than 12 will get in free, while ages 13 to 18 get in for $3. The proceeds will benefit Lincoln Country charities.

Oktoberfest

Fort Bliss Oktoberfest:
gates open at 11:30 a.m. Sunday at Building 746 on Carter Road at Fort Bliss. Tickets cost $9 a person and will be available at the gate. Today is sold out; call to make sure Sunday tickets are still available. Information: 568-3126; 568-8923.

White Sands Missile Range Oktoberfest:
From 6 p.m. to midnight Friday at Volunteer Park. Tickets cost $8 in advance and $10 at the gate; price includes a raffle ticket in a drawing for a $1,500 travel voucher. Information: 678-4134.

Ruidoso, New Mexico Oktoberfest:
Oct. 15-16 at the Ruidoso Convention Center. Tickets for adults cost $6 a day or $10 for both days; $3 for ages 13-18; free for children younger than 12. Doors will open at 5 p.m. Oct. 15 and noon Oct. 16. Information: (505) 257-6171, toll free at (877) 877-9322; www.trekwest.com/oktoberfest

Laura Ruelas may be reached at lruelas@elpasotimes.com; 546-6354.